Nidhi Prayas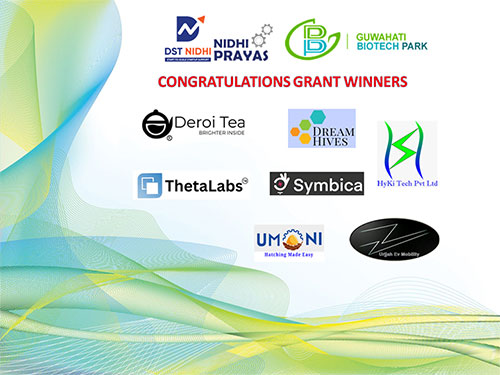 An Initiative to Support Entrepreneurs and Innovators Through Prototyping Grant (up to Rs 10 lakhs), Business Mentoring, Networking and Facility Support
This programme is specifically designed for entrepreneurs and innovators who are trying to build physical technology product(s) in various sectors such as healthcare, biotechnology, clean technology, energy, water, agriculture, manufacturing, IoT and more. The selected startups will receive funding support in the form of a grant for prototype/PoC development. Business mentoring will be provided from early on to make sure that the developed products have solid commercial viability. Moreover, Guwahati Biotech Park team will also provide support to these innovators in terms of connecting with partners, vendors, customers/users & investors. In summary, the programme will provide holistic support to the selected startups to convert their product ideas into prototypes and from thereon into successful businesses.

Prototyping Grant
Each selected startup will receive a grant of up to Rs 10 lakhs to develop the prototype or PoC

Business Mentoring
We will provide one-on-one business as well as commercialisation advisory, and support

Networking
You will have access to Guwahati Biotech Park & NIDHI-PRAYAS' network of experts, partners, early adopters and more comprising a strong community of over 140 startups and entrepreneurs

Facilities
You will have access to Guwahati Biotech Park and its labs and resources, including coworking spaces, the bio lab and the fabrication shop
---
Focus Areas
Technology based product proposals in various sectors such as Agriculture, Healthcare, Manufacturing, Engineering, IoT, BioTechnology, Medical Devices, Water, Waste Management, Energy, Climate Tech etc.
A) Individual innovator: He/she is required to be an Indian Citizen and at least 18 years of age as on the date of the application. An Indian citizen is defined as one who is in possession of government-approved proof of nationality such as a valid passport or a voter's ID.
B) He/she is an existing incubatee of a PRAYAS centre then:

The company must be less than 2 years old and wishing to develop a prototype for a new product, for which it may have not received similar support.
The company must have no significant revenue at the time of application.

C) Team of innovators: Individual Innovator OR Team of Innovators: The innovator should have the knowhow of the PRAYAS project. For a team of innovators, there has to be an agreement among the team about the lead innovator who would apply, and the funds will be transferred to the lead innovator's account (if selected).

The project should involve physical product development. Projects related to software development and those involving pure academic research are not eligible.
Preference may be given to those innovators

Innovators who have bootstrapped or have got co-investment commitment.
Innovators who have a clear road map for commercialisation or start-up creation.
Women innovators.
Young innovators.

The maximum support that can be provided per innovator/incubatee is up to Rs 10 lakhs.
If the innovator is pursuing to build a prototype from their institute/organisation IP, then he/she needs to get a no-objection certificate from the appropriate authority of their institute/organisation for the use/IP transfer/ownership in favour of the innovator/startup.
If the applicant is studying /working in an institute/organisation, they should get a no-objection certificate from that institute/organisation for applying to NIDHI-PRAYAS.
The NIDHI-PRAYAS grantee should be registered for the pre-incubation or incubation programme at the Technology Business Indicator (TBI) for the entire duration of the programme, after going through the TBI's selection process.
The NIDHI-PRAYAS grantee should be fully committed to working towards the prototype development for which support is being sought and should not treat this as a stop-gap arrangement to support any other pursuits.
The innovator can avail the NIDHI-PRAYAS support only once and they should not have sought similar support previously from any other Government of India organisations/institutions for the same innovative concept as proposed in the application form.
NOT ELIGIBLE FOR PRAYAS
Student applicants pursuing long-term research projects like doctoral research projects or similar projects will not be supported.
Professors or academicians engaged in teaching with any academic or R&D institute.
BENEFITS TO NIDHI-PRAYAS RECIPIENTS (PRAYASEE)
A prototype grant for up to Rs 10 lakhs to build their ideas into a prototype.
Mentorship, networking, and participation in various startup/entrepreneurship-based events.
Co-working spaces for developing ideas into a prototype.
Access to labs and libraries.
TERMS OF ASSOCIATION & DESIRED OUTCOMES
The total amount disbursed will be up to a maximum of Rs 10 lakhs.
The project term for the PRAYASEE will be up to 18 months. At the end of 18 months, the progress review shall be done by the local PRAYAS monitoring committee at Guwahati Biotech Park and based on the decision of the PRAYAS monitoring committee the project term of the PRAYASEE may be extended by 6 months.
Guidelines for use of Funds by Prayasee
Outsourcing charges for R&D/ Design Engineering/ Consultancy/ Testing/ Expert advice.
Raw material/ Consumables/ Spares.
Fabrication/ Synthesis charges of working model or processes.
Business travel and event participation fees – Ceiling of 10 per cent of the approved project cost.
Patent-filing cost – PCT: Ceiling of 10 per cent of the approved project cost.
Contingency – Ceiling of 10 per cent of the approved project cost.
IT WILL NOT BE USED
To pay the grantee's relatives.
To pay usage charges to the TBI.
To repay loans/ commitments made earlier.
To pay the rent of own accommodation, creation of infrastructure facilities like sheds, etc.
The support/funds should be mainly for prototype development work/proof of concept.
Call for Application – How to Apply
Guwahati Biotech Park announces the call for NIDHI PRAYAS
Please fill out the NIDHI-PRAYAS application form and forward it to info2gbp@guwahatibiotechpark.com
The selection of the NIDHI-PRAYAS support grantees shall be done by Guwahati Biotech Park through a screening committee and certain qualifying criteria's.
The shortlisted candidates have to present their project proposal in front of the Project Monitoring Committee
The selected Prayasee shall be informed by the Guwahati Biotech Park
Last Date for Application is 20th June, 2023